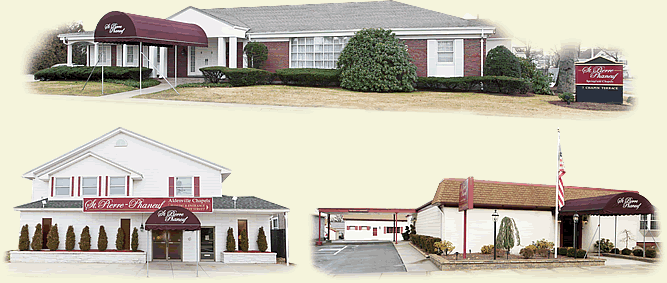 Paul A. Phaneuf, owner of the St. Pierre – Phaneuf Funeral Chapels, is a native of Ware and graduated in 1973 from the New England Institute of Anatomy, Sanitary Science, Embalming and Funeral Directing in Boston. Paul came to Springfield in 1979 when he purchased the Edward F. O'Donnell Funeral Home which was established in 1936 by Edward F. O'Donnell.
In 1902, Calixte Blais opened a funeral service in Holyoke and operated it as C. Blais & Son. His son, Lester Blais, later joined him in the business followed by his grandson, Donald Blais.  In 1959, Donald Blais opened a funeral home at 506 Britton Street in the Fairview section of Chicopee and operated it as Blais Fairview Funeral Home. In 1984, Paul Phaneuf purchased the Fairview home in Chicopee from Donald Blais and renamed it Phaneuf-Blais Fairview Funeral Chapels.
Founded in 1930 by George St. Pierre, Sr. and his wife, Marie our Springfield home was originally located at 576 State Street and served the French Canadian population of the City of Springfield and surrounding communities. In 1963, George St. Pierre, Jr. and his wife, Virginia, son and daughter–in-law of the original founders and both licensed funeral directors, opened a second location at 7 Chapin Terrace in the North End section of Springfield near Baystate Medical Center. The new location was built specifically as a funeral home and was the first newly constructed funeral home in the area.  In 1984, the St. Pierre family purchased the former Robert Funeral Home at 13 Dale Street in the Aldenville section of Chicopee which was established in 1966 by Harvey Robert.  In 1992, Paul Phaneuf purchased the St. Pierre Funeral Homes at 7 Chapin Terrace in Springfield and 13 Dale Street in Chicopee from George St. Pierre, Jr. and his wife, Virginia. 
In 1997, Matthew D. Sabat joined our staff. He was raised in Westfield, graduated from Saint Mary High School in 1989, and in 2001 graduated from Briarwood College in Southington, Connecticut with an associate's degree in funeral service. He is now a partner and licensed funeral director with the firm. Matthew resides in Chicopee with his wife, Cathy, and their triplets, Julia, Matthew, Jr., and Corinne.
In 2012, Anthony J. Hanke, a native of the South End section of Springfield, rejoined our staff. Anthony was born in Springfield and graduated in 1992 from Cathedral High School. He received an associate's degree in Mortuary Science in 1995 from Hudson Valley Community College in Troy, New York. He is now a partner and licensed funeral director with the firm. Anthony resides in West Springfield and is the proud father of Christina and Madison. He is a communicant of Our Lady of Mount Carmel Church in Springfield and speaks fluent Italian.
In 2004, our three locations were renamed and now operate as the St. Pierre - Phaneuf Springfield Chapels, St. Pierre - Phaneuf Aldenville Chapels and St. Pierre - Phaneuf Fairview Chapels. We then began extensive renovations of both the interior and exterior of each of the locations using our signature colors of burgundy, rose and gold. In keeping with our signature color, all of our professional vehicles including our hearse, limousines and flower car were changed to a distinctive black cherry color.
In 2015, Paul Phaneuf was appointed by Governor Charlie Baker to a five year term on the Massachusetts Board of Registration in Embalming and Funeral Directing. He was also appointed by Springfield Mayor Domenic Sarno to the Springfield Community Police Hearing Board and by Chicopee Mayor Rich Kos to the Chicopee Landfill Advisory Committee.
We are proud to be independently owned. Paul, Matthew, Anthony and our entire staff are committed to serving our families with exceptional service and attention to detail so that each family entrusted to our care will experience "A Lasting Memory of the Journey Home".